Queensland Allstars & the Tournament Season!-Ace Trainer AU
The Event!
Over the Weekend we had the opportunity to host our very own tournament up here in Queensland that we (for the time being) have affectionately named QLD All stars. This event was a $25 entry event, with a cut-off of 16 players and a prize payout only to the top 4 competitors making the event much more challenging and hopefully worthy of being known as an All-star event. Personally, I really enjoyed this event and was lucky enough to run it on the day and provide my 15 other guests with a competitive tournament experience. In the future, myself and the rest of Ace Trainer will be looking at running these events accross the country with the Ace Trainer name supporting the event wherever it may be. In the not so distant future however, our next Ace Trainer tournament will be another QLD All-star event that will be streamed live on Twitch.tv!
This tournament took place under the rules of November 8, meaning that you could not attack on the first turn, Pokemon Catcher (if you were playing it) would require a coin flip, and the coin to decide who would be going first in the match was to be flipped before drawing your opening hand. We had been playing around with the thought of adding tie's to the event, but wanting every game to have a result was a big priority so they were left out on the day. The tournament was a total of 4 rounds, meaning that unfortunately 1 unlucky person would not make cut at 3-1.
Below I have the deck breakdown of each player in the event, which hopefully gives you just a little bit of an idea what may be popular as we move into the 2013/2014 season at the end of November!
1st-Shaun Murphy- Virizion/Genesect/Boufallant + Friends (list below)
2nd-Syahmi Razak- Virizion/Gensect/Balloons
3rd-Russell Anderson- Rayquaza/Emboar/Mewtwo
4th-Daniel Woods- Virizion/Genesect/Balloons
(Top 4 after TopCut)
5th-Andrew Mirzikinian- Blastoise/Keldeo/Black Kyurem
6th-Bodhi Cutler- Virizion/Genesect/Roserade
7th-Anthony Smith-Blastoise/Keldeo/Black Kyurem
8th-Kieran Blakely-Virizion/Genesect/Balloons
9th-Thomas Yu-Garchomp/Altaria
10th-Chris Mirzikinian-Thundurus/Deoxys/Kyurem/Absol
11th-Robert Baum-Virizion/Genesect/Metagross
12th-James Dickson-Haxorus/Gabite/Altaria
13th-Amy Wilson- Zebstrika/Garbodor
14th-Luke Greaves-Thundurus/Deoxys/Kyurem
15th-Matt Thompson-Virizion/Genesect
16th-Kyle Seaton-Giles-Ninetales/Amoongus/Friends.
After the event, I was lucky enough to sit down with Shaun Murphy the winner of the event as we discussed his deck and the interesting list he used to win
on the day.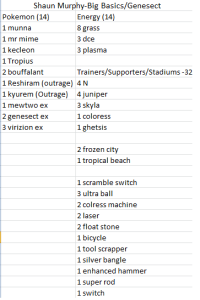 Shaun has always been someone to play a deck that most would consider very strange. He has said in the past and told me personally that decks like this suit his play style and have always done well for him in the past. He was very gracious to send us his list and all of us at Ace Trainer wish him good luck for events in the future! (Especially Anthony who's Draft team he is on)
The tournament Season!
With events already under way in American, with the results of several big Regionals already published, it is a shame that in Australia we are yet to receive any concrete information about our schedule of events for 2013/2014. However, Tournament organisers over the weekend were informed that the scheduled start of the 2013/2014 League season has begun with the promo being announced in the USA! This means that the first set of events for Australia/NZ will potentially be taking place in under 5/6 weeks time. This is great news for all players, who will be fresh and eager to test their skills against friends and family alike in the new tournament format! Ace Trainer will be doing its absolute best to provide news and coverage of every possible event across the country and bring you up-to-date news on winning decks, deck lists and what has been doing well!
Without too much more to say about the event, I wanted to extend a big thank you to Andrew Mirzikinian who made the event possible and showered us with Pizza  all day! Thank you to everyone who reads the article and I hope you will continue to tune into Ace Trainer as we move towards the tournament season!
~B0ds!