Nationals 2013 Report – via Banter Toys
Saturday 15th June – 8.00am:
It was a fairly cold morning, with the grey sky looking as gloomy as ever. A typical chilly winter of a day! But if you were standing in the small street of Little Collins located in the heart of Melbourne city, you'd probably be wondering why on earth there were so many people heading into the Stamford Plaza Hotel. Probably to get out of the cold, but on this particular morning you would have found that it was in fact a large group of excited Pokémon trading card game players waiting to compete in the all-important event of the year, the 2013 PokémonTCG Australian Nationals!
On the weekend of Saturday 15th and Sunday 16th of June, the 2013 Pokémon TCG Australian Nationals tournament saw 158 players registered, and this doesn't even include the family, friends and Pokémon fans in general who also attended! There were stalls selling Pokémon TCG packs, theme decks, tins, box sets, and we even found some ultra-cute Pokémon plush for sale (Pikachu… how we wish we bought you).
In the spirit of the TCG games, Banter Toys ran a free prize draw on both days of the event with up to 90% of attendees signing up. A total of 37 prize packs were given away consisting of the latest Black & White Plasma Freeze and Plasma Storm booster packs, the White Kyurem Box Sets (yet to be released in Aus/NZ until August!), Pokémon toys from Tomy, and huge Pokémon DVD complete sets courtesy of our friends at Beyond Entertainment.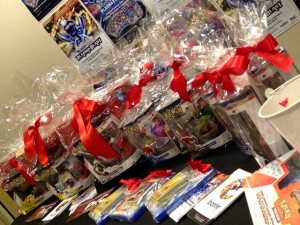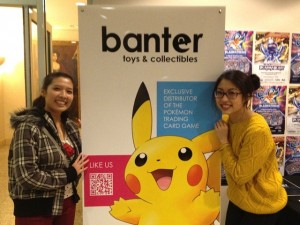 Day 1 tournament play was lengthy, with games going well into the night on Day 1. As for all the junior division players, well done!
On Day 2 with the top 32 Master players battling it out in the tournament room, a number of side events which included the Metronome Constructed side event games, the Pokémon Video Game competition, and the Professor Cup; another full day of Pokémon game activities! A large number of stickers, pencils, textile patches, lapel pins and booster packets were given away for the side events. Another reason to come along even if you aren't familiar with the TCG but love Pokémon!
Overall the event was a success and we wish all winners all the best for the Pokémon TCG World Championships in Vancouver this year 9th – 11th August 2013.