Bringing the BUZZ to Buzzwole GX – Bodhi Cutler
As we have finally seen a completed set-list for the new Pokémon TCG Crimson Invasion set, coming in just 2 weeks' time, it's time to dig into the nitty-gritty and start to produce some Summer content that you all know and love from Ace Trainer!
Today, we are talking about one of the best cards from the set in Buzzwole GX and how it is going to fit into our existing and future metagames with the added Shining Legends set, released in Australia this week!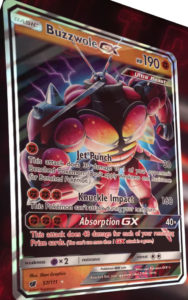 Looking Back to Look Forward:
I want to first start off by stating the obvious, this card is basically Landorus EX from the Boundaries Crossed expansion of almost exactly 5 years ago, in November of 2012. The reason it is important to mention Landorus EX in this context is that the role that card played in the metagame after its release was exactly how I feel Buzzwole GX may work from now on.
Upon Landorus' release all those years ago, the card was immensely popular in 'Big Basics' decks, that utilised Mewtwo EX and the Garbotoxin Garbodor that we know and tolerate. This deck was all about early pressure, helped by a single energy attack that spread damage all over the board to make taking prizes easier in the mid to late game.
Landorus was a card that excelled in matchups where you could put early pressure on the opponent (a different rule allowed you to attack turn one during this time as well, meaning Landorus EX was even better than imagined). Landorus stayed in high tier decks for almost its entire life-span as a card, only falling out of favour towards the last few months of its standard legality.
If you want to learn a complete history about Landorus EX, and how it positioned itself in the metagames of old, I highly recommend a 2015 Six prizes article which can be found here: http://www.60cards.net/en/expert-blog/user/4388/article/464. The article details just how Landorus rose through the ranks to become one of the best decks throughout its history, while still being one of the most underappreciated! I will be using this article as a reference when we talk about the future of Buzzwole GX!
There's a new (Hammer)head honcho in town:
Buzzwole has everything a strong fighting type card needs to be effective in a Pokémon TCG metagame. It's a basic, has a high HP, a lower than average retreat cost for a Fighting/Rock Pokémon, a strong single energy attack, and Strong Energy is still in Format. These features combine into a Landorus EX lookalike that is going to be a strong contender for best card of the set.
Looking at the attacks now, and it's obvious where this card is good.
Spread damage has become more popular in the Pokémon TCG of late, with the introduction of Tapu Koko Promo and its strong spread attack. Not much needs to be said about Jet Punch that isn't already obvious, but it's important to remember that there is only 1 card in the current standard format that can prevent its damage from hitting the bench and Mr. Mime is not a card that many players will choose to include over other viable tech Pokémon in standard.
The 2nd attack isn't all that exciting, however, like Landorus EX it is a 3-energy attack that can do big damage should you need it. In a format with Gardevoir GX positioned as one of the best decks in the game, as well as Tapu Lele being a 3 count in every top tier competitive deck, I do not recommend loading up a Buzzwole GX with multiple energy very often.
I want to briefly, and only briefly mention the GX attack at the end of this portion of this area of the article. It sucks. It is counter-intuitive to how you want to play Buzzwole, that being with early pressure on your opponent and taking quick prizes. This GX attack is not one you will expect to use during very many of your games, so you will need to find an alternative GX attack should you require it.
Archetype Breakdown:
With similar strategies still present that have survived for this 5-year period, Buzzwole comes into the current metagame searching for a Landorus sized hole to make its home in. Of course, in our current metagame, we do have a several existing archetypes that a card like Buzzwole fits into nicely.
In an eerily similar fashion to Landorus, we are going to mention a deck that involves Big Basics, a deck that has a stage 2 line that deals damage anywhere on board, and a deck with an attacking partner that only needs a DCE.
Those decks are Buzzwole GX / Garbodor, Buzzwole GX / Decidueye GX, and my pick for one of the best decks going into the next format, Buzzwole GX / Zoroark GX.
Buzzwole GX / Garbodor:
We begin first with Buzzwole/Garbodor, a 2017 creation of the big basics archetype that has the potential to be a contender against other strong decks in the meta right now. We'll first look at a skeleton list, then go over some of the card choices and why I think it's going to be a possible archetype.
I feel confident in saying this is a strong starting point for the deck, so let's go down the list and talk about anything that needs some explanation and I will be giving 5 possible changes that I can see for you to tinker with in your testing.
4 Buzzwole and 4 Tapu Lele were my immediate inclusion in this deck before thinking about any other spaces, as they are both going to be a mixture of your primary attacker and the best cards in the deck. Due to wanting extra supporters over extra Lele, I have cut 1 Tapu Lele GX for a 3rd Acerola which I think will serve the deck very well.
Espeon EX is going to be seeing an excessive number of consistent spots in any list that has Buzzwole GX in it, due to its amazing ability to take loads of prizes against any evolution deck you come up against. It's an absolute auto-included in this deck and if I had space I'd nearly run 2 to always have it available.
Zygarde EX is a partner Pokémon to Buzzwole that works similarly to Lucario EX's partnership with Landorus EX in formats of old. For the uninitiated, Lucario EX also had 3 separate attacks (a 1, 2 & 3 cost) and was used as a much safer target to attach multiple energy too when necessary. Do I think Zygarde is a perfect card? Absolutely not. But, the card does present a massive threat when 2 energies are attached that is not present when you attach a few energies to Buzzwole.
The supporters I feel are standard for this list, there are areas that need to be ironed out. I am a firm believer in Acerola & Buzzwole being an incredible combo, and I considered a 4th copy to secure that strategy.
Energy counts are what I feel the hardest area to get correct in Buzzwole decks. You obviously want to play 4 Strong energy, and 4 Rainbow for this deck is what we need to attack with Garbodor. Of course, with the recent addition of Enhanced Hammer in several top-tier decks, it is hard not to want to fit 3 or 4 fighting energy in the deck, but space is a definite issue. Creative license takes over here, and I implore you to try out many different options here and see which works best.
Finally moving onto trainers now, and there isn't too much going on here that would surprise people. In each of my decks that I am showing you guys in this article today, I have included a special charge to recycle Strong Energy and hopefully assist with retaining a high damage output at all points of the game. As previously mentioned, enhanced hammer's popularity has risen after Igor Costa's October Regionals win, meaning recycling energy is significant to this deck!
Buzzwole GX / Decidueye GX:
Let's move onto deck list number #2 now, and talk about Buzzwole GX / Decidueye GX. An idea that has been floated around my testing circle for about 6 weeks is trying to find additional partners for Decidueye in the 2017/18 format, which is proving to be difficult. Although it has seen a resurgence and several top placings at events all over the world, the deck does struggle with popular archetypes that are proving themselves to be the high tier lists. We will speak about some matchup issues I feel this deck may have below, as well as Decidueye's current problem, but for now let's move onto the list.
I'm going to show you my list for Buzzwole/Decidueye, and we'll once again have a chat about some of the card choices and the decks overall strategy.
I am slightly less confident in this list when compared to the Garbodor variant of the deck that we spoke about above. It may be due to Decidueye still struggling to find a concrete place (and, by extension, a concrete list) in the metagame that removes all its early game speed troubles. Decks that are Garbodor focused have switched to a more commonplace 2-2 Garbodor split, making it even easier to start the game with a turn 2 Garbotoxin and that is a major reason Decidueye is having a difficult time in this metagame. We will speak about Field Blower below, but being 'forced' to run 3 in this list is a good thing for the deck itself, but does take up a couple of spots where other cards could be good and will not always shift a poor matchup in your favour.
The Pokémon line-up for the deck seems standard from all accounts and research that I have done into current Decidueye GX lists. 3 Dartrix and 3 Decidueye GX appear to be the norm for most, and paired with 3 or 4 Rare Candy means a turn 2 Decidueye GX is common for the deck. The most contentious inclusion I feel in this Pokémon line-up is perhaps Alolan Vulpix, not because the card isn't fantastic at what it does, but because I am not sure if it truly helps the deck function the way we want it to. The idea behind most current Decidueye GX builds is to play with several copies (often 3) Vulpix to start with the card, from there you can build your Decidueye's with the help of Vulpix's attack, Beacon. In this version of the deck, we are ideally looking for a strong Buzzwole start to the deck, applying early pressure and following up our mid game with Decidueye GX to overpower our opponents and take multiple prizes in a turn. For now, I recommend testing the 1 copy of Vulpix for slower matchups, but it may end up being a card that you can remove without too much trouble.
Supporters and energy are standard in my opinion, there are lots of Decidueye decks out there right now that are utilising 2 copies of Skyla to help with the evolution line up in the early game. For now, I am not sure it is wholly necessary to play Skyla in this list when you can rely on Buzzwole and your draw supporters in the early game to get you to the same position that Skyla tries to accomplish.
Trainers is where we have my only real issue with the deck, and that is surrounding the 3 copies of Field Blower. My issue doesn't necessarily stem from the card of Field Blower, but the deck's matchup versus Garbodor that makes 3 a necessity. You really need to play 3 copies of Field Blower, otherwise, you take a significantly bad loss to Garbodor based decks as they are currently built. Buzzwole is, of course, weak to Psychic, making the already contentious matchup even worse for you with this. Using up valuable space in the Buzzwole / Decidueye deck to try to even out your matchup with the best deck in the game is quite hard, and unless there is a significant improvement in win percentage, as a result, it might be difficult to justify this deck choice if you expect there to be a high amount of Garbodor in your local metagame or tournament series.
Going forward, I can see this deck being quite good if there are lists out there that can adequately deal with Garbodor as the most popular deck in the metagame. I feel as though the list we have spoken about gives you that opportunity to help the matchup, but to what degree that exactly is I am unsure.
Buzzwole GX / Zoroark GX:
We've made it to the paid portion of the article (just kidding), we've made it to the final list of the article that happens to be my pick for one of the best decks in the game for the next few months! I have been planning, thinking, researching, testing, editing and overall falling in love with this archetype for the last 6 weeks. What I am going to show you guys today is not the definitive best list in the world, it isn't infallible, it isn't going to change the world, but it is going to be an excellent starting point for YOU to also fall in love with this deck.
Buzzwole GX / Zoroark GX is an idea that revolves around something very simple, and that is being further ahead than your opponent at every stage of the game. To be ahead at every point in the game, we have weaved together two very complimentary ideas and cards to be an aggressive deck that has good matchups across the board. Buzzwole and Espeon EX is our strong combination to take out evolution decks, with Zoroark GX being the answer to Garbodor & decks such as Volcanion in the mid-game. Zoroark GX's ability and attack are immense, and sporting a strong 210hp is the perfect way to back up the claim that this card is amazing. Before we dig too deep, we'll look at the list and get into the analysis down below!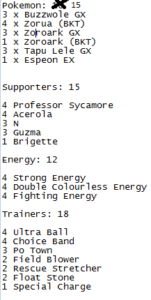 For the Pokémon line-up, and after several changes to the counts of Zoroark, I feel as though I have landed on the preferred counts of every card present. 3 Buzzwole and 4 Zorua are a must, as they are your definitive starting Pokémon and having to start with either Espeon EX or Tapu Lele GX are going to be a detriment to the overall speed and strategy of the deck. The single copy of Breakthrough Zoroark is going to be the deck's best weapon against Garbodor and Volcanion. With 2 Rescue Stretcher and plenty of draw with additional Zoroark's, there is always plenty of opportunities to grab this Zoroark early and not have to worry about retreating when there is no ability lock present. Espeon EX once again features in the Buzzwole deck, and for good reason, the card is amazing. Zoroark GX can hit for up to 150 damage with a DCE, or with a smaller bench, any number over 100 is going to be enough to secure a knockout on the basic or stage 1 evolution of a GX Pokémon.
Supporters and energy are again standard, but with the addition of 4 Acerola in this list, you will find yourself always ahead on prizes due to the incredibly high HP between all of your Pokémon. Buzzwole with 190 HP and Zoroark with 200 means that very few Pokémon will be taking them out in one hit.  One of the biggest strengths of Buzzwole GX is its great matchup into Gardevoir GX, as you only ever need single energy attachments to do lots of damage. This is reflected in the energy counts, and of course, the supporter counts to protect your Pokémon from being taken out in one hit.
Something we have yet to touch on, although the card featured as a 4-of in my Garbodor list, is Po-Town. For this deck, having the ability to hit 50 damage onto the active, and 30 damage to a bench Pokémon can set up stage one Pokémon for knockouts should they decide to evolve while Po-town is active. A newer, but strong strategy that has come about is the consistent reusing of Espeon EX's 'Miraculous Shrine' in order to stack damage with Po-Town until you can adequately take knockouts. 4 Choice band is another addition to this deck that makes a massive difference in the mid-game, against GX decks or EX decks that don't necessarily rely on evolution. Zoroark can do up to 150 damage with a choice band attached, and with a Choice Banded Jet Punch dealing 80 damage to the active turn one, there isn't too much that can survive this 1-2 combination.
Of course, we are yet to mention the reason that Zoroark is one of the best cards we have seen in a long time. That is, of course, the ability.  Being able to discard unnecessary cards and draw into multiple strong supporters and additional energies per turn are what is going to make this deck such a difficult one to deal with. With 4 Acerola in the deck and up to 6 additional drawn cards per turn, it will be a common occurrence to see Acerola played in consecutive turns with this deck.
Final Thoughts:
There are plenty of months left of testing before ideas like this are truly figured out, but I feel as though I have given some strong lists and hopefully some good ideas for the future! If you need to contact me in any way, @B0ds_HS on Twitter or via the Ace Trainer Australia Facebook page!
Thank you very much for reading, good luck with your testing and I'll see you guys soon!
(a final shoutout to  SubaruSumeragi on Zerochan.net, who's artwork we have used in the featured image. You can find their work at https://www.zerochan.net/user/SubaruSumeragi. There are some images that could be classified as NSFW, so please internet responsibly).